how to get coaching clients and grow your coaching business
This Is The Best Strategy To Get Coaching Clients
Do you need to get more clients for your coaching business? Using the following tips and strategies will give you the best chance for success.
How To Get Coaching Clients: A Process
As a coach, one of the most important things you can do is to get coaching clients. But how do you go about getting them? Here is a process that you can follow to get coaching clients.
 Figure out who your ideal coaching client is. This is someone who you can really help and who will benefit from your coaching.
 Find where your ideal coaching client hangs out online and offline. This is where you'll find potential clients.
 Reach out to potential clients and let them know about your coaching business. You can do this through social media, blogging, or other marketing methods.
 Offer a free consultation or sample coaching session to potential clients. This will help them see the value of your coaching and decide if they want to work with you.
 Follow up with potential clients and keep in touch even if they don't sign up for coaching right away. They may need more time to make a decision, or they may need a reminder down the road when they're ready to hire a coach.
Understanding Your Customer's Needs
Your potential coaching clients are out there, but how do you find them? And once you find them, how do you convince them that you're the right coach for them? In this blog post, we'll give you a step-by-step guide to doing both.
Start by understanding your customer's needs. What kind of problem do they need help with? What are their goals? Once you know this, you can start creating content that speaks to their needs.
Next, use social media and other online platforms to reach out to potential coaching clients. Post helpful articles, start a conversation, and be sure to include a call to action inviting them to learn more about your coaching services.
Finally, follow up with each potential client. Schedule a call or meeting, and be prepared to answer any questions they have about your coaching business. By taking the time to connect with each client on a personal level, you'll increase your chances of landing new coaching clients.
Not everyone is a good fit for executive coaching. In order to be an ideal candidate for coaching, an individual must be coachable and willing to take direction. They must also be able to commit to the process, which requires regular reflection and action between sessions.
The best coaching clients are those who are looking to improve their leadership skills and grow their businesses. They're willing to put in the work required to see results. If you're able to identify these qualities in a potential client, you're well on your way to building a strong coaching relationship.
Creating Your Website And Marketing Materials
As a coach, one of the best ways to attract clients is to create a professional website and marketing materials. Your website should be easy to navigate and include information about your coaching services, fees, and contact information. You can also use your website to showcase testimonials from satisfied clients. In addition to your website, be sure to create informative coaching flyers, business cards, and other marketing materials that you can distribute to potential clients.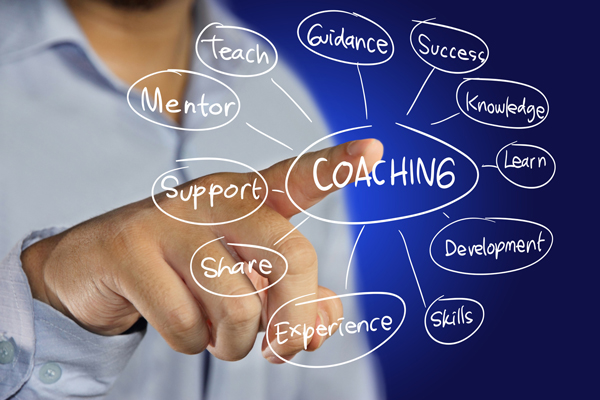 Getting Referrals
There are two strategies that work best for getting referrals for coaching clients. The first is to ask for referrals from your current coaching clients. The second is to ask for referrals from your friends, family, and acquaintances.
Asking your current coaching clients for referrals is the best way to get new coaching clients. This is because your current clients already know, like, and trust you.
They also know what kind of transformation you are capable of helping them achieve. When you ask your current clients for referrals, be sure to let them know that you are looking for people who are ready and willing to invest in themselves and their growth.
Asking your friends, family, and acquaintances for referrals can also be effective. This is because people who know you are more likely to refer you to someone they know who is looking for a coach. When asking people you know for referrals, be sure to let them know what type of person you are looking for as a coaching client.